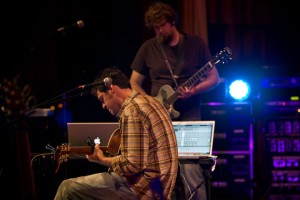 two seconds away is Tim Seley and Patrick Largen. Mixing music with technology (and hoping things don't blow up) they offer a sound and experience that's engaging and memorable.
Their real time looping and layering of emotive vocal melodies, effects, instruments and other random sounds, leaves audiences mesmerized and wanting more.
About New Music Monday:
New Music Monday is at its core very simple. Every Monday from 9/29/08 to 9/28/09 we released a new song for free! Each song was only be available for free for that week and then was replaced by a new track. Although the song a week project is finished we'll still be doing regular updates updates at newmusicmonday.com and on the podcast.  AND starting the first week of January we'll be starting up our free music giveaway again, but this time once a month.  So make sure you subscribe in itunes so you don't miss anything.  If you missed the first 52 weeks you can purchase those from our store.
New Music Monday is the brainchild of Tim Seley & Patrick Largen of the band, "two seconds away…"
We took the leap in June of '08 to do music full time after realizing that we needed to really "go for it" or choose a different career path. So we sold our homes in good ol Manhattan, KS and moved to Kansas City. It didn't take us very long to realize that we needed more structure in our lofty pursuit. You see, we tend to get sidetrac… (is that a shiny object?) So, New Music Monday emerged as a fun solution. Basically it keeps us moving forward and gives you free music! Sounds like a good deal to us! We hope you'll make NMM a regular pit-stop. Enjoy and let us know what you think!