June 7, 2009 | Song of the Week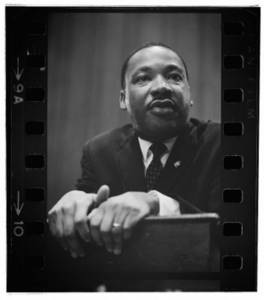 On NPR the other day they interviewed a guy who takes audio from newscasters and other orators and puts it to music.  He uses auto tune (software that forces any note to be perfect within any key you specify) to accomplish this.  Now, pop radio has been using this for years, but the idea of making people who were talking, sound as if they were singing on perfect pitch intrigued me.
So, fast-forward to Sunday morning.  All Tim and I had for a song was something that sounded like it could be heard in the background of a movie…  It was more like mood music than anything and so I thought it would be cool to do something like we did with "A Thousand Bars" (Listen to a sample of "A Thousand Bars") and make it artsy fartsy.
Here is what came of that idea.
The process of taking Martin Luther King Jr's famous speech and giving it rhythm and pitch was an inspiring experience for me.  I hope you are inspired as well!

Picture taken from here and is public domain
For text and audio of Martin Luther King JR's speech go here.