April 16, 2009 | misc

We got an e-mail this week from Jeremiah asking us for a little more info about our recording setup. We posted a short video early on that did a real quick introduction to our live setup, but didn't get very in depth… so we're gonna use our great new blog format to get a little more into the nitty gritty.  If you have any other questions don't hesitate to ask.  Read on for more details… (disclaimer: this is from my point of view… not necessarily Patrick's)
17″ Macbook Pro
When we were still in the early stages of this project we knew we wanted to go Apple (I'm a mac fanboy) and we managed to get a killer deal on them. We use these for everything… recording, video editing, casual use, music, etc… The large screen size really comes in handy for most of the things we use it for.
Garageband
Don't let its cute interface fool you… Garageband is actually a really great way to get into home recording. Its virtual instruments sound great for the price (free), its got a variety of nice sounding effects, very nice amp simulators for going direct with an electric guitar, basic pitch correction, straightforward midi, a decent library of loops and samples, and so on. We've used GB exclusively on a few tracks and often go back and forth between this and Ableton Live.
Ableton Live 8

We had a couple reasons for getting Ableton Live. The primary reason is that to do all of the live looping and effecting that we do in our performances, its the best around and it just happens to also be a very full featured DAW (digital audio workstation.) The second reason is that I'm kind of anti pro tools. I've spent so many hours in the past troubleshooting pro tools installations, trying to just get the stupid software running, and the interface has never seemed intuitive to me. Just because its the most widely used doesn't mean its the best (cough Windows cough cough.)
Ableton has a learning curve of its own, and its not perfect by any means but the interface is intuitive, and its actually FUN to use and to experiment with. I've got a bit of a pro tools chip on my shoulder. Ableton has a free two week demo that you can download from their site and they just released a new version this month that adds a lot of fun features.
Waves GTR Solo
This is a very cool guitar amp/effects simulator that has a free one year download. It can function as a stand alone app or as a plugin for Garageband or Ableton. It sounds great and you can't beat free. Its not going to sound exactly like a real tube amp, but the convenience of not lugging an amp and pedalboard around while also being very tweakable makes it a very nice addition to our setup.
MDA VST plugins
This is a suite of free plugins that you can use in a variety of different applications. I primarily use the Sub-Bass Synthesizer to make some pseudo bass sounds both live and for recording. It'd be nice to have an actual bass though…
Tascam Fireone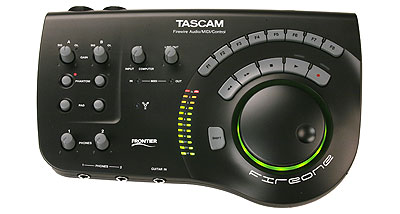 We bought these with a couple things in mind. 1) We could use it as a controller for editing both video and audio and 2) we would upgrade eventually. We discovered after we first tried setting up for our live setup that we needed more ins and outs to really effectively "do our thing" in the live setting.
The Fireone is powered by firewire, has two ins/outs, midi in and out, and two headphone jacks which is nice. We still use these for most of our recordings and its pretty amazing what you can do with really inexpensive gear these days.
Presonus Firestudio Project
This is the latest addition and has really helped us with our live setup. It gives us enough ins and outs to have our own personal in ear monitor mixes which is a huge help. Its got much better mic pres than the Tascams, but I think the only thing we've actually recorded with it is the cello as far as the song of the week goes.
Rode NT1-A
This is the mic that Pack primarily uses for most of his recordings (acoustic guitar and vocals) its a great mic for the price… free for us since we're borrowing it from our buddy Todd Way. We like to use this in combination with a SM57 for recording the Cajon.
Audio Technica AT2020
This is the other large diaphragm mic that we use pretty regularly. I'm primarily the one that uses it since Pack has the Rode. Its a pretty popular mic and sounds good, but a little bit on the crispy side.
Shure SM58
We use these every now and again in a pinch.
Shure SM57
Another good mic to have around.
So that's a quick overview of what we've been using.  If anyone has any other questions about anything else feel free to shoot us an e-mail or ask us in the comments.